Must-Do's for Talents on myCareerGate
Posted by Admin on 28.09.2021 11:27:33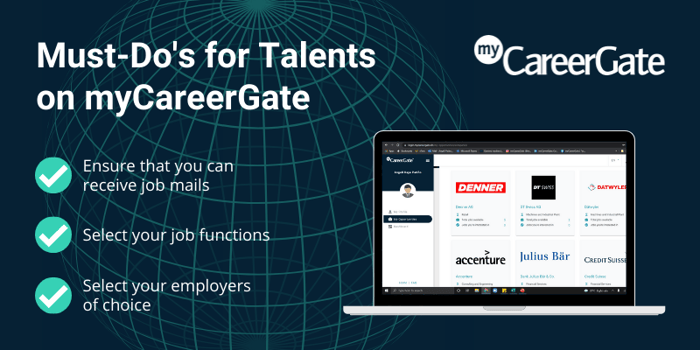 To get the best results on myCareerGate, we kindly ask you to ensure that these three points are accomplished.
1. Ensure that you can receive job mails

You can configure your settings on the page "Personal Information" in your profile.
When you scroll down to "Mailing preferences", the first option in this section manages the job mails. Whether you are actively looking for job opportunities or would simply like to know about them for the future, you should ensure you can receive job mails.

Click the checkbox next to "Send me daily job mails" and done — You will now receive job opportunities from your employers of choice through email.
2. Select your job functions

Before you can select your employers of choice, you have to select your preferred functions. You can select a maximum of three functions that you are most interested in.
Your functions, in combination with your employers of choice, determine what job opportunities are sent to you. Only job opportunities which belong to the functions you selected will be included. We narrow down your job opportunities based on your preferences to save you as much time and energy as possible.
3.

Select your employers of choice
In the section "Employer of choice", you can find your favorite companies using the search bar.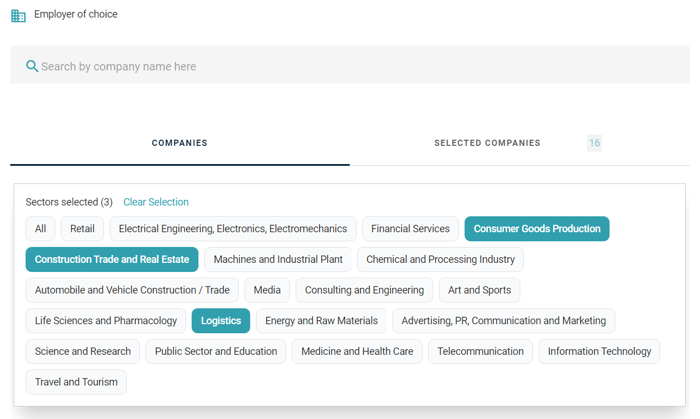 If you would rather see more companies at the same time, you can select an industry and take a look at all the companies that are a part of this industry on the platform.

In order to select an employer of choice, click on "Select Company". Don't forget to save your selection in your profile by clicking on "Save" on the bottom right side.
The job opportunities within the job mails are based on your employers of choice. This means you have to select at least one employer of choice to receive job mails.

We wish you a lot of success in your job search. We hope to help you find your dream job at your employer of choice with myCareerGate.
ArbeitsmarktHR TrendsmyCareerGate
---